The first proposal of the 2016 Diocesan Family Life Synod was to "create a parish environment that nurtures and celebrates marriage." The celebration of National Marriage Week on February 7-14 gives us a wonderful opportunity to reflect on how we are meeting the challenge. Plus, couldn't we all use something to celebrate in these challenging times? 
In our newsletters this month and next, our theme will be on nurturing and celebrating marriage. Please review the many resources and events below, including National Marriage Week resources from the USCCB, our inaugural Marriage Anniversary Mass, and a workshop on February 24 on "How to Build a Thriving and Divorce-Proof Marriage" (who doesn't want that?). 
May your year be filled with peace, prosperity and love. May God's blessings shower upon each of us and bestow a bright, healthy and peaceful new year.
In humble service,
Your friendly family life office
The USCCB provides a variety of resources for parishes to celebrate National Marriage Week. Among them are:
Who exactly are Adult Children of Divorce?  As the name implies, these are adults whose parents divorced during their childhood. For some children of divorce, the effects of their parents' relationships may not be intimately felt until adulthood. Some adult children of divorce may struggle to form healthy attachments in relationships. These dynamics are normal and expected. However, it is important to remember that the past does not determine the present. 
Please join us next month for "How to Build a Thriving & Divorce-Proof Marriage" with Joey Pontarelli of Restored Ministries. Intended for adult children of divorce but open to all, the workshop will explore how we can build the kind of thriving relationship for which we are called. 
Congratulations to all the newly engaged couples across the Diocese! Please join us for an upcoming Celebrating Your Love retreat day or Engaged Encounter Weekend.

 

Upcoming CYL Dates


  January 23 - via Zoom

  March 6 - via Zoom

  April 24 - via Zoom
Week of Prayer for Christian Unity 
At least once a year, Christians are reminded of Jesus' prayer for his disciples that "they may be one so that the world may believe" (John 17:21). Hearts are touched and Christians come together to pray for unity. Congregations and parishes all over the world exchange preachers or arrange special ecumenical celebrations and prayer services. The event that touches off this special experience is the Week of Prayer for Christian Unity. Traditionally the week of prayer is celebrated between 18-25 of January, between the feasts of St. Peter and St. Paul. 

 

---

 
| | |
| --- | --- |
| | Two Churches, One Marriage, developed by Dr. Lee Williams at USD, is a free, web-based program that explores the challenges & rewards that interchurch couples may encounter, as well as strategies for dealing with those challenges. The program is grounded in research that studied couples from different Christian churches & denominations. Although the program targets interchurch couples, many of the concepts will likely apply to couples from different religions (Christian-Jewish or Christian-Muslim, etc...).⁠ |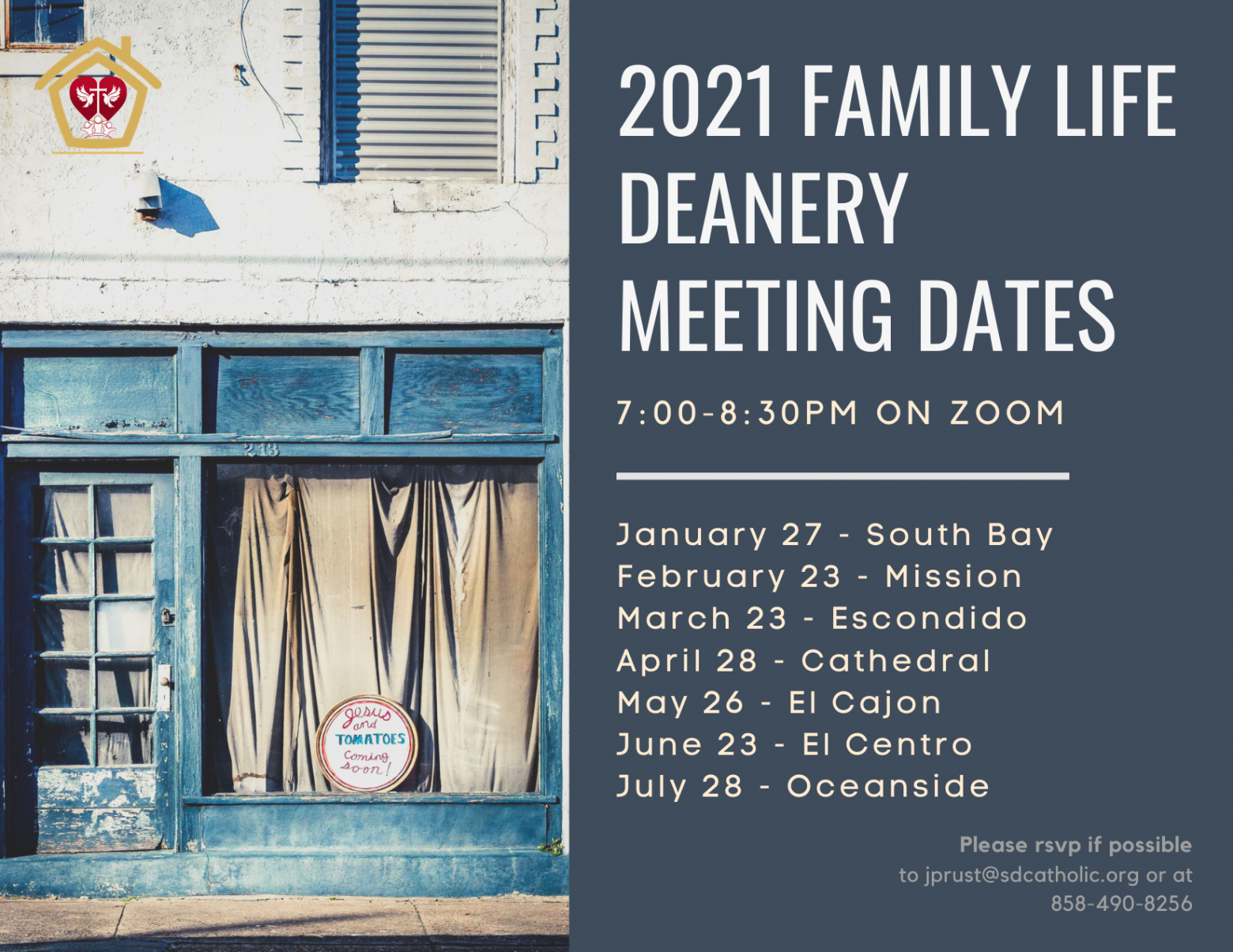 Join us for YOUR deanery meeting to share resources and network with other family life ministers from local parishes!
Walk for Life Week (January 11-16)
National Catholic Schools Week (Jan. 31-Feb. 6)
Honoring Rev. Dr. Martin Luther King, Jr.
The U.S. Catholic Church at all levels is tackling racism and working toward lasting justice and peace.

At the San Diego Diocese, the Office of Ethnic and Intercultural Communities began hosting a community forum via Zoom, one of the latest diocesan efforts to explore racism in various arenas and to identify long-term solutions that can be implemented locally.

The initial three parts of this forum, called "My Church, My Story: Listen, Dialogue and Action," were held from August to October. They focused on the African American, Hispanic and Native American experiences in the Church. Please see the videos from Dr. Constance Carroll and Dcn. Marvin Threatt.