May - Mother's Day and the Month of Mary
The Pro-life Ministry invites our parish to pray this Litany during this month when we honor our earthly mothers and our spiritual mother, the Blessed Virgin Mary, who responded to God with a "Yes!" and who soon after went to accompany her cousin, Elizabeth, in her pregnancy. She is our perfect role model in respecting life. Please visit stmaryp.org/pro-life-litany for the Litany in its entirety.
This month we also celebrate the Feast of the Visitation on May 31st. Let's follow Mary's example and accompany all pregnant mothers with the Novena for Life honoring the Feast of the Visitation. It will begin May 22 and ends May 30.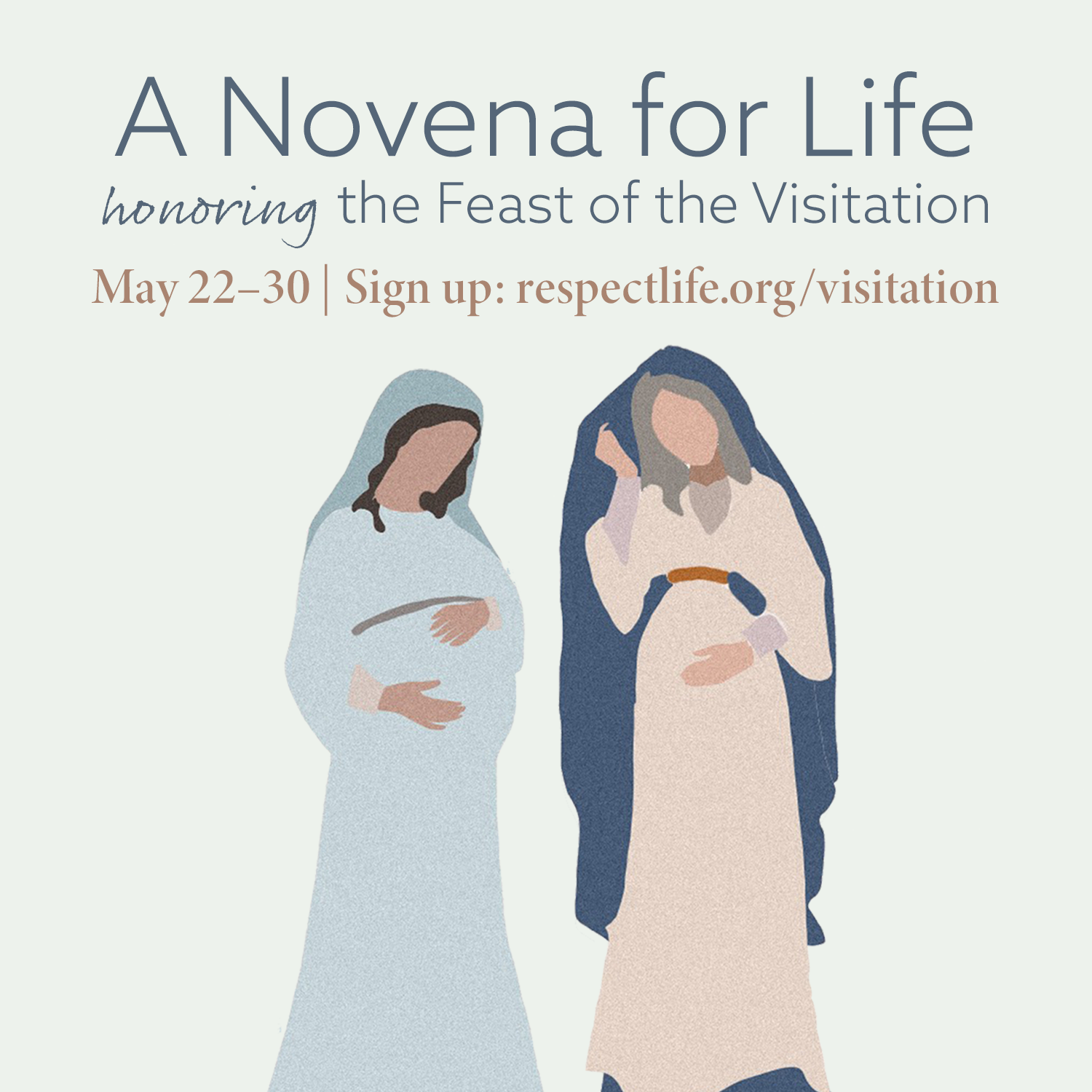 From: respectlife.org/visitation
---
Pro-Life has always been a major teaching in the Catholic Church. There are a variety of websites that have great resource materials in them, such as the US Catholic Conference of Bishops (USCCB) regarding forming good consciences prior to voting in elections, as well as the Californians for Life site to help identify those politicians who's voting records are Pro-Life. Please visit those sites to learn more about this vital topic.
Pregnant and in Need?
www.Optionline.org 24 hour live chat
Culture of Life Family Services helps uninsured and underserved women in the midst of unplanned pregnancies. To schedule a free ultrasound, call (760) 741-1224 or visit www.COLFS.org for more information on other medical services. Below is a list of services that COLFS provides to help women in need.
Abortion Pill Reversal: Regret taking the abortion pill? Call or text the APR Helpline at 1-877-558-0333.
Alternatives Medical Clinic: ultrasound, pregnancy test, and mobile unit. Visit amc-ca.com or call 760-741-9796.
Birth Choices Women's Mobile Clinic: Accessible ultrasounds and pregnancy tests brought directly to women in need. Call for an appointment at 760-744-1313, or visit www.birthchoice.net.
Lamb of God Maternity Home: In a crisis pregnancy and need a safe place to stay? Need resources and education to help you get back on your feet? Call 760-715-6463.
Rachel's Hope: After Abortion Healing and Abortion Recovery for men and women hurting from an abortion. www.rachelshopehealingministry.com
Miscarriage Support: Visit the Escondido Office at COLFS North County 760-294-6114
Post Abortion Support: Visit the Escondido Office at COLFS North County 760-294-6114
COLFS Ministry Website: www.friendsofcolfs.org 
COLFS Mission Valley (619) 692-4401
Crisis Hotline - 619-564-3310